2014/03/31 at 5:00
NICK GREY & THE RANDOM ORCHESTRA "YOU'RE MINE AGAIN" (MILK & MOON RECORDINGS)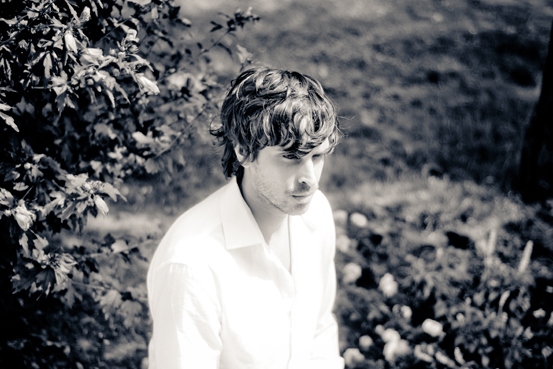 (crédit photo : Lynn SK)
Depuis 2002, la musique atmosphérique de Nick Grey mêle arrangements élégants et structures électroniques imprévisibles.
"Hautement excentrique et littéraire" selon The Wire ou "empruntant son bucolique au folk, mais aussi son anxiété à l'electronica et au free-rock" d'après les Inrockuptibles, son travail l'a conduit à collaborer sur ses albums précédents avec des artistes tels que Charlemagne Palestine, Martyn Bates (Eyeless in Gaza), Kris Force (Amber Asylum, Swans)… Il est également membre de 230 Divisadero avec Matt Shaw, de Tex La Homa (un album publié chez Locust Music, label de Matmos, Espers…), et du "collectif virtuel" 48 Cameras (avec Scanner, David Coulter, Gérard Malanga, Jean- Marie Mathoul…). Il partage son temps entre le Sud de la France et Montréal, au Canada.
The Random Orchestra circa 2014 :
Louis Pontvianne est le collaborateur principal de Nick Grey depuis 2011. Multi-instrumentiste confirmé, bassiste de formation et diplômé en musiques actuelles, il arpente également les scènes parisiennes en compagnie de groupes tels que Loki Starfish ou Soole. Il a participé à l'écriture de la plupart des morceaux de l'album.
Boyarin, "bricoleur pop de génie" d'après les Inrockuptibles (24/02/09, p. 68) ou "expert en chausse-trappes mélodiques et en casse-tête harmoniques" selon L'Oreille Absolue (n°4, février 2011), représente dans le groupe une influence aussi méthodique qu'insaisissable, enrichissant sans faille les structures existantes de ses interventions baroques. Il vit à Marseille.
Née en 1989 à Hyères-les-Palmiers, Sarah Maison chante la peur, l'ivresse, l'amour et la trahison, armée uniquement de sa guitare acoustique. Elle rejoint The Random Orchestra en 2013 et offre au groupe le morceau 'Enchantée', placé en fin d'album, en guise de pied-de-nez féminin à l'ironie douce-amère. Elle travaille en outre actuellement sur son premier album.
Peter James est l'élément qui scelle le tout : ingénieur du son confirmé et spécialiste de la musique ambient, il a pris en charge le mix et le mastering de l'album dans son studio d'Edinbourg. Il est également un collaborateur régulier du collectif Belge 48 Cameras.
Vous pouvez découvrir l'album en intégralité ci-dessous :
This content is restricted to site members. If you are an existing user, please log in. New users may register below.