2006/09/18 at 2:03
TY "DON'T WATCH THAT / WHAT YOU WANT" EP (BIG DADA)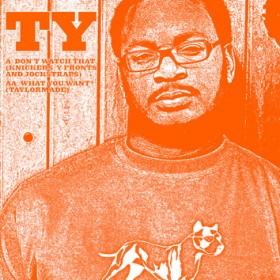 Ty returns with a promo-only white label lump of goodness from his forthcoming, third and finest album, "Closer".
"Don't Watch That" finds Ty and production collaborator Drew hooking up the kind of guitar-stabbed funk that seems both rooted in the old skool and completely contemporary.
An utterly irresistible, utterly infectious rhythm, it's topped off with a hilarious lyric from Ty in which he talks about the rumours and nonsense that wash around you on the internet and beyond as soon as anyone knows your name: "Apparently I walk with a thousand grands/ And
love fat girls dipped in marzipan." "What You Want" returns to the ground that Ty made his own with "Groovement" and "Wait A Minute" from his Mercury-nominated album, "Upwards". The fast, shimmying rhythm was originally beatoxed by Tailor McFerrin, son of Bobby "Don't Worry Be Happy" McFerrin. Ty and Drew then built a tune around it, layering it up to include, amongst other things, a full horn section before Ty dropped yet another incisive and intelligent lyric. And this is just a taste. "Closer" is an album packed with humour, cleverness and heartfelt emotion,
another classic in Ty's marvellous output. Come closer…
Ce contenu est restreint aux membres. Si vous êtes un utilisateur enregistré, connectez vous. Les nouveaux utilisateurs peuvent s'enregistrer ci-dessous.